UFC 183
Silva vs Diaz
UFC 183: Silva vs. Diaz is an upcoming mixed martial arts event that will be held on Sunday February 1, 2015 at MGM Grand Garden Arena in Las Vegas, Nevada.
Middleweight - Anderson Silva vs. Nick Diaz
Welterweight - Tyron Woodley vs. Kelvin Gastelum
Women's Bantamweight - Miesha Tate vs. Sara McMann
Lightweight - Joe Lauzon vs. Al Iaquinta
Middleweight - Thales Leites vs. Tim Boetsch
Middleweight - Thiago Santos vs. Andy Enz
Welterweight - Jordan Mein vs. Thiago Alves
Middleweight - Richardson Moreira vs. Ildemar Alcântara
Featherweight - Diego Brandão vs. Jimy Hettes
Middleweight - Rafael Natal vs. Tom Watson
Flyweight - Ian McCall vs. John Lineker
NSW/VIC/ACT - 2pm
QLD - 1pm
SA - 1.30pm
WA - 11am
18+ Only - Photo ID required
Saturday 14th February 2015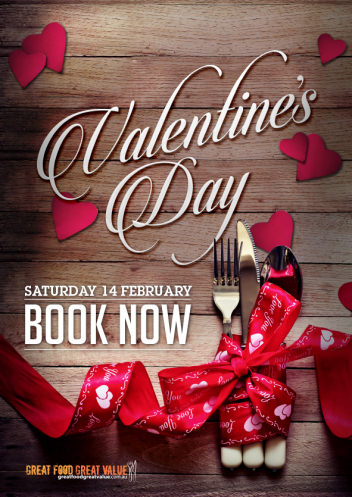 Book Now For Valentine's Day
Saturday 14th February
Valentine's Day is on the way so get in early and book your romantic date for two today.
Conditions apply. Bookings are essential. Not available with any other offer. See staff for details.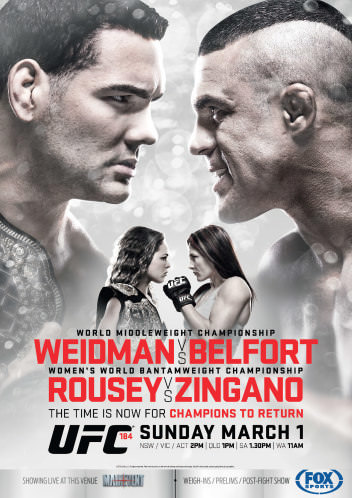 UFC 184
Weidman Vs Belfort
Weidman vs. Belfort pits undefeated Chris 'All-American' Weidman vs Vitor 'The Phenom' Belfort fight in Staples Center, Los Angeles. Undercard features Rousey Vs Zingano.
Weidman vs Belfort
Rousey vs Zingano
Souza vs Romero
Ellenberger vs Koscheck
Pennington vs Holm
Ferguson vs Medeiros
Munoz vs Carneiro
Jouban vs Walsh
Salazar vs Yamamoto
Lewis vs Potts
Krause vs Lazaro
NSW/VIC/ACT - 2pm
QLD - 1pm
SA - 1.30pm
WA - 11am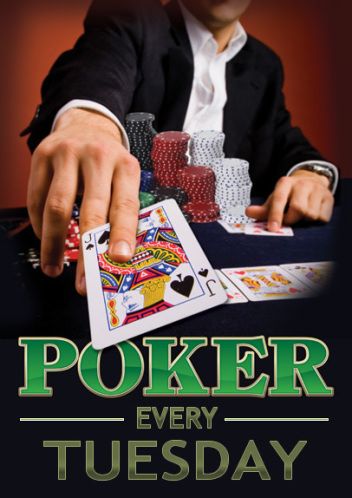 Poker
Poker, Top Pub
Tuesdays - Free NPPl poker!
Registration open from 6.30pm
great prizes to be won.
18+ Only - Photo ID required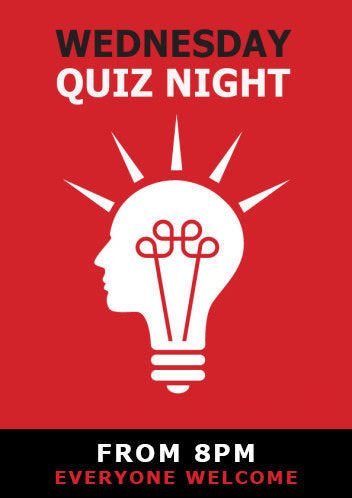 Wednesday Trivia Night
Come and enjoy our trivia evening.
Everyone is welcome.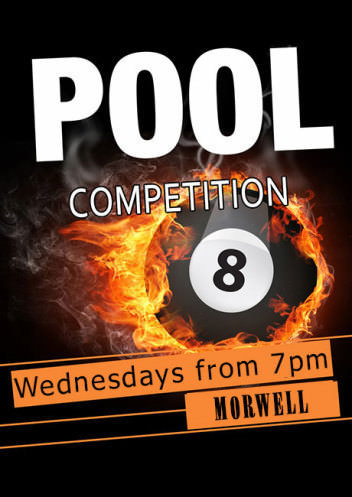 Wednesdays Pool Competition
Join us on Wednesdays in our Pool competition.
Registrations from 7pm.
Cash, prizes and drinks. Don't miss out!
Conditions apply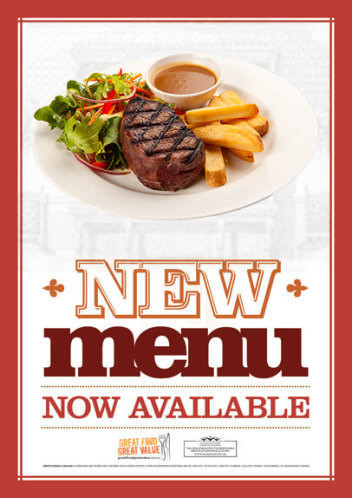 Sports Bar Budget Buster Meals
Looking for a quick and quality meal? Try something from our delicious Sports Bar menu.
Available for a limited time & while stocks last.
Not available with any other offer. Further conditions may apply.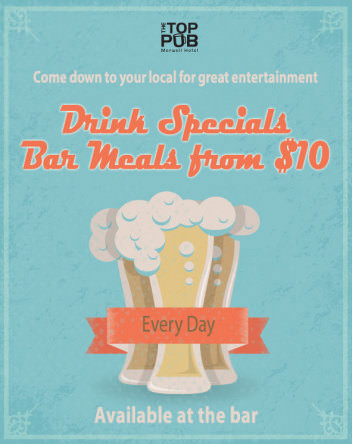 Kickstart Your Weekend
Kickstart your weekend at the Top Pub with $3.40 pots and bar meals from $10 all day, every day!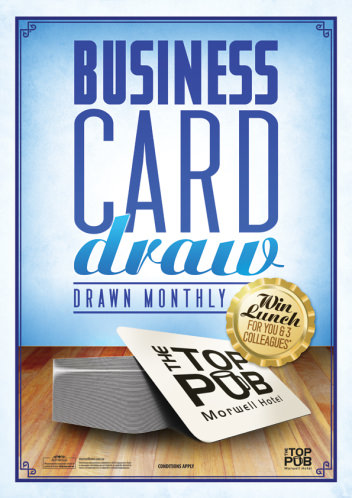 Business Card Draw
Enter your Business Card to win lunch for you and three colleagues
Drop your business card into the draw to win lunch for you and 3 colleagues.
Drawn monthly in the Public Bar and the Bistro.
This is a FREE event
18+ Only - Photo ID required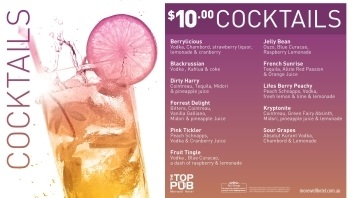 $10 Cocktails
Come in and enjoy our $10 Cocktails. We have plenty of great options to choose from.
Berrylicious
Blackrussian
Dirty Harry
Forrest Delight
Pink Tickler
Fruit Tingle
Jelly Bean
French Sunrise
Lifes Berry Peachy
Kryptonite
Sour Grapes
Conditions apply. See staff for details.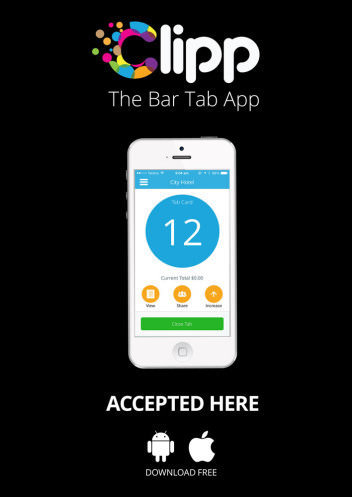 Clipp the Bar Tab App is Now Here
Clipp the Bar Tab App allows you to pay for food and drinks directly from your smartphone.
Simply download the app and connect a credit card to your account.
Set your tab limit and and flash your phone when placing your order.
View all your transactions in real time and when you're ready to leave, simply close the tab from your phone.
Come and give it a go!
See staff for details and conditions.
Available every day for a limited time.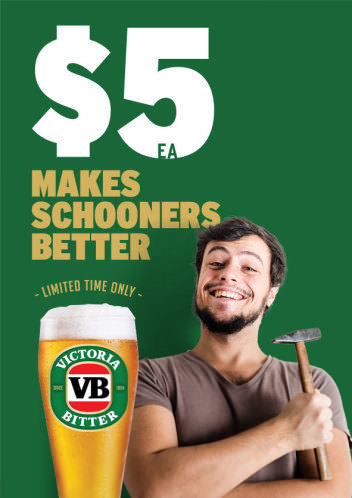 All Day Every Day VB Special
All day every day $5 VB Schooners! Pop in with your mates to enjoy this limited time only special.
Makes schooners better!
Conditions may apply. Available at participating VIC venues only. Enjoy responsibly.
Every Day Drink Specials At The Bar
Great drink specials currently available across the bar:
Carlton Draught - $8.00 (570ml pint)
Sol Mexican Beer - $6.50 (330ml bottle)
Jack Daniels Bourbon & Cola - $8.50 (340ml bottle)
Jack Daniels Bourbon - $7.00 (30ml nip & mix)
Wine of the Month: Hardy's Insignia Chardonnay, Shiraz or Cab Sauv - $6.00 (150ml glass), $26.00 (bottle)
Conditions may apply. Enjoy responsibly.